VINTAGE REGGAE SHOW AND DANCE
WENDY ALLEYNE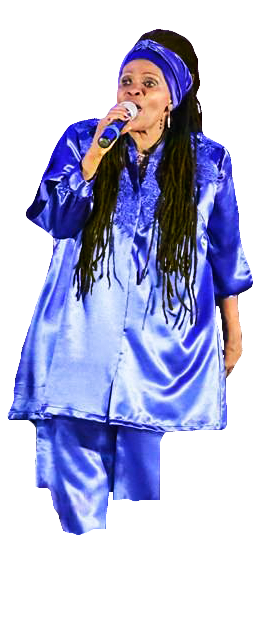 Before she was wowing the world with her beautiful voice, before she was dubbed Barbados' Queen of Song and even before she received a national honor Wendy Alleyne was a little girl with a huge dream that one day she would be singing on a big stage before throngs of people screaming her name.
Over a decade after this dream, it was almost déjà vu when Alleyne, along with The Dynamics, performed to a roaring crowd at the historic Madison Square Garden in the United States and in the years since, this feeling has been repeated ten times over. Wendy's aspiration began as a pre-teen growing up in the tiny rural village of Venture, St John. One of eight children born to Muriel Alleyne, everything this lass did or thought of encompassed singing.
With her trademark honey eyes illuminated as she recalled her childhood, Wendy maintained from the time she could remember singing was all she wanted to do. "I knew in my heart I would be a singer and that is all I would do."
Every Saturday, through encouragement from the late Dame Olga Lopes-Seale, Alleyne headed to Barbados Rediffusion to participate in the popular Children's Party. Then one day in 1972, a popular promoter named Eddie Jones, who was listening to the show, heard her vocals and was immediately impressed.
In addition to working with the Twilighters, Wendy was often teamed with the popular band The Dynamics, which was led by Mike Grosvenor. Their connection was such that Jones matched them permanently and started the group Wendy Alleyne and The Dynamics. This was when the legend that is Wendy Alleyne began.
Sach Moore penned her first recording, Let It Show, which he followed up with Spouge chart busters such as Stand By Love and Have A Thing About You. Not to be outdone, Grosvenor added to her repertoire with: Can't Control My Emotions and I'm Depending On You.
As a female in what seemed to be a man's world during that era, adjusting to life as one of the Caribbean's hottest acts and bearing the title of "Queen of Song" wasn't too difficult to do. According to Wendy, she had role models like Fern Trail, Norma Stoute, Cynthia Layne then later Carlyn Leacock and Sheryl Hackett who were integrals supporters and confidants.
What these women advised her, and what has served to be the key to her success and longevity, was that authenticity was essential. Nowadays, the celebrated songstress is actively in demand and singing her heart out. Many will argue this time she's sweeter.